Tips and tricks on How to look perfect in wedding Dresses
5 min read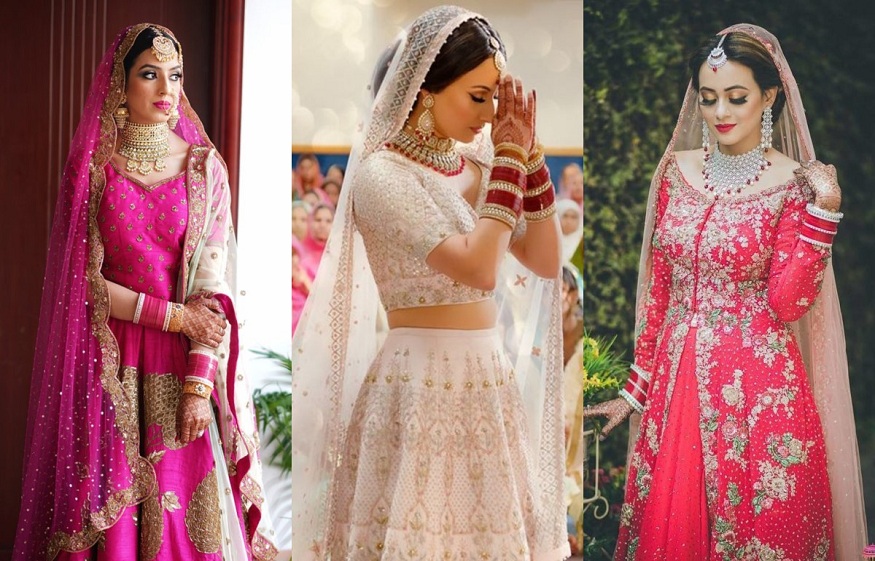 The most priceless asset in a woman's life is her beauty. She always tries in every possible way to maintain her charmer or to enhance it more. For this, apart from doing their makeup, all the women also adopt different types of dresses. In this way it can be said that the beauty of women is decided by their outfit only.
Wedding season comes, she is eager about her beauty whether it is her own celebration or her friend's. She always tries to keep these golden memories in your heart. For this, she takes more interest in wearing Indian dresses, which are traditional as well as new and attractive designs and colors according to changing times. Her Indian outfit collection is moving towards the year 2023.
The Indian outfit of the year 2023 has a collection of many lehengas, and sarees, etc. Which you can wear to give a perfect look full of beauty in the wedding.
Tips to wear lehenga to look perfect in marriage
A girl's lehenga is the most special in the midst of a very grand wedding. Because at that time everyone's eyes look at the bride, in such a situation it becomes necessary for you to make yourself look attractive like a fairy from heaven. If you choose from the collection of Indian lehenga of the latest year 2023, then your beauty will shine.
Along with this every woman should pay special attention to some important tipsFocus on LENGTH of lehenga-
 If you have chosen the bridal lehenga, then you need to see its length properly. Whether it looks perfect in your body or not. If not, then fix it according to your own in such a way that no part of the feet is visible.
Pay special attention to your BODY TYPE-
Any type of Indian dress does not look perfect on every girl. Because everyone's body shape is different.
If you are a bit fat and your arm is also like this, then you should not be inclined towards sleeveless lehenga, instead you can carry full or long-sleeve lehenga.
If you are thin, then you can choose sleeveless or a lehenga that is more encircled below the waist, this will hide your thinness and enhance your beauty.
You pay special attention to the COLOR of the lehenga-
The colors of the dresses have their own special importance in the weddings held in India. By this, on one hand, the bride expresses the happiness of her heart, on the other hand, it is also a wonderful symbol of love and affection. For this type of memorable moment, any woman should pay special attention to the color of her skin to choose a lehenga, that is, there should be a better combination of both, only then you can get the perfect look by wearing it. In the collection of new Indian dresses of the year 2023, you can like gold, maroon or red color combinations for this type of function, it will add your look element. If you want to do some experiment then, you can try light orange with red green choli and neon with pink lehenga. Your attractive face will emerge in this.
For perfect look with saree in wedding-
Saree is an integral part of Indian culture for marriage and also for various rituals related to it. By the way, almost all women have the desire to appear in this type of dress, they cannot remove it from their mind because the look of any bride in saree is heart touching.
While choosing from the collection of Indian dresses for the year 2023, pay special attention to the following tips
Understand your BODY SHAPE-
Everyone's body structure is not the same, due to which it becomes necessary for any woman to understand her body in better ways and pay attention to her outfit accordingly.
A dress like a saree would be perfect for a bride whose height is a bit short, because their flaws are hidden in it. For this you can choose from the new Indian dress collection of the year 2023 for your wedding.
If you are of plus height, then the better option for, to wear chiffon and Italian silk saree instead of cotton. Your attractive look in this dress will be perfect for the wedding.
If you are slim then you do not have to worry about your beauty. You can get Banarasi silk cotton saree, which is heavy as well as besieged.
Special focus on COLOR of saree to get the perfect look-
The skin tone of a bride has a profound effect on the Indian dress she wears. If you don't wear the right combination, it can spoil the look you have. For this, you have to choose from the collection of Indian dresses of the year 2023 in the following ways
If you are of dark complexion then you should wear purple and maroon saree.
If you are fair then like green purple on you and in addition dark red key or it will add life to your beauty.
Ways to TIE saree for wedding will give you perfect look-
If you want to attract the eyes of all the guests at the wedding in galloping ways, then for this you have to tie the saree below your navel, that is, neither above nor below the waist. Because it can affect your height. Along with tying below the navel, you cover the side next to it. You have to tie the saree tightly to get the perfect look. If you tie it loosely, then there will be a fear of opening it.
These tips are necessary for you to STAY FREE for hours in saree on the wedding day-
For this, it is necessary to wear the saree properly and pin-up it. This will give you the advantage that on the one hand you will feel very comfortable and on the other hand you can enjoy marriage in better ways without any hassle by being completely free.
Make PLATES in as little saree as possible-
If a woman likes to wear it with a plate, then she should make it very thin and special attention should be paid to the fact that the saree should not be seen too open near the waist and stomach. It can spoil the perfect look in her marriage.